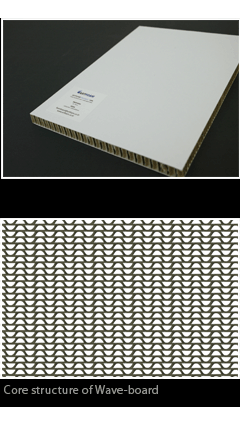 ECO Wave-board (All paper based rigid board)
ECO Wave-board is all paper based rigid board made of wave formed cardboard core and multi-layers of paper liners on both sides. It is lightweight but as much rigid as conventional plastic or wood based boards. It can be formed into many different creative shapes and designs using computerized cutting tables or conventional cutting tools and equipments. So, it is an excellent board for exhibit displays, events, POP/POS signs, furniture, shop fittings, window dressing and other visual communication applications.
Applications
Suitable for long-term and indoor applications.
POP/POS displays, exhibit signs, advertising displays.
Large format and creative designs.
Direct UV flatbed printing and computerized cutting.
Features
100% paper hence reduces dependence on petroleum based resin, CO2 emission and landfill wastes.
Excellent printability.
Lightweight yet rigid , durable and warp-resisting
Size Availability
16mm 1220x2440mm